OMR Bagla is a 50:50 Joint Venture between OMR-Italy & Bagla Group-India. Started in 2008, the Company has its manufacturing plant at Aurangabad (Maharashtra), India. the company has state-of-the-art Fully Automatic Pressure Die Casting Plant having HPDC Machines ranging from 250 T to 1600 T with a plan of adding machines up to 2500 T in the immediate future. OMR Bagla also supplies and has the capability to supply Gravity Die Cast(GDC) parts for various applications.
The Post-Casting processing infrastructure comprises of latest CNC, VMC and HMC machines with high technology Robotic Machining Lines for High volume parts.
The plant also has in-house facilities for :
Washing setups for CLEAN parts,
Air and Water leak test sets for Airtight parts,
Vacuum impregnation plants,
Assembly lines.
These are of course to suit and comply to customer specific requirements.
The company believes and practices :
Process innovation,
Frugal Engineering,
Lean Management,
TPM
OMR Bagla is strongly backed by latest advanced technology from OMR – Italy with full support and back up from BAGLA Group for its GDC parts requirement and Tool Room for requirement of its Dies and related toolings. Over the years, OMR Bagla has become the most preferred supplier for aluminium parts to its Indian as well as Global customers.
Vision
We want to be a Family Owned, Professionally Managed & Technology oriented Company is driven by Motivated Employees, adhering to Fair Business Practices to Delight all the Stakeholders – Customers, Shareholders, Employees, Suppliers, Government Authorities, Technology Partners & Society at large.
Mission
⛤ Be an AGILE Company working towards Excellence, to provide Delight to All stakeholders.
⛤ Delight the Customer with Excellent Product Quality, Delivery, Development and Value for Money.
⛤ Develop technology innovations in processes for cost competitiveness.
⛤ Create Safe & Participative Working Environment to promote Employee Morale.
⛤ Conduct Business by Lawful and Ethical means.
⛤ Conserve Natural Resources, maintaining Clean and Green Environment.
⛤ Enhance Value of Shareholders, Suppliers and Society.
OMR Bagla Awards & Recognitions
Life Achievement Award
November – 2006
Best Performance In Quality & Delivery
2009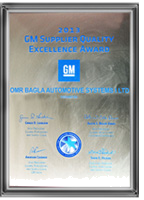 GM Supplier Quality Excellence Award
2013
OMR Group (Italy) is 90 Years Old Auto Component manufacturing Group in the world and has manufacturing facilities across the world. OMR Group produces critical components involved in the production of cars, vehicles using tires, industrial and earth moving vehicles. This production is spread out within the most important "original equipment" market.
The profound changes taking place within the organization of the large manufacturing industries (make or buy) (with an increase in out-sourcing) has brought the fundamental role of the components suppliers to a world-wide scale, (now representing 70% of the finished vehicle). At the same time, the working relationship between the suppliers and the large Automotive manufacturers has changed radically and is now based on a higher level of integration and a greater sharing of responsibilities, risks and benefits.
Bagla Group is one of the leading Auto Component Manufacturing entities in India offering the wide range of products from Aluminum Die Casting (PDC & GDC), Fasteners, Relays & Flashers, for the automotive industry and cooling system for white goods industry.About 70% of our Products are Exported & Balance to Domestic OEM's
The Bagla Group's Strong Engineering Base, Team Strength, Committed for Customer delight, their vision and 25 Years of rich experience has enabled them to cross 100 million dollars turnover and cater to the Domestic and International Clients such as Bajaj Auto, Bosch, Delphi, Magna, Piaggio, Ashok Leyland, Brembo, Whirlpool, L& T, Videocon, John Deere etc. All plants of Bagla Group are ISO/TS: 16949 Certified & are Undergoing TPM implementations respecting International property & patent rights.